Atv's "Lone Wolf" series has become a frequent destination for not only action buffs, but also hometown lovers. While emphasizing patriotism in almost every episode of the series, it also warns us all to be vigilant in deciphering the siege and invasion maneuvers of our enemies that began years ago and continue continue today.
NOT a coincidence
In this episode of 'Lonely Wolf', our hero Altay Kurtoğlu rushed to the aid of his colleagues, who were in a difficult situation during the cross-border operation. He worked alone as an army to rescue the wounded Sare and the captured Viking. The most pivotal scene in the series was the dialogue between Kurtoğlu and a platoon commander in a maroon beret, which helped him cross the border.
As they sneaked across the border at night and crossed the road on their own special mission, the commander asked, "Hey, do you look excited?" Kurtoğlu replied, "I'm going abroad for the first time in my life, maybe that's why." The commander spoke with a meaningful smile: "Then you will wait a little longer to go abroad. Because here and beyond is our homeland…"
It could only be a divine message that this scene coincides with the day we entrusted our 4 Mehmetçik to the homeland during Operation Claw-Lock. "What are we doing here? The careless people who said it were actually hiding the answer they knew like honey, even from themselves. What did Ataturk say? "There is no line defence, there is a surface defence. This surface is the whole country…" If we did not undertake these operations on the other side of the border, the bombs would explode again in the middle of our cities today. Do you think it's a coincidence that members of the PKK, who wanted to shed blood on May Day in Mersin on Friday, were caught off guard with an explosive device?
May Allah not let stones and tears touch the feet of our Mehmetçi, who shed his sweat and his blood for the good of our country, both within and beyond the borders, "in all our country"…
Long live Leonardo!
Leonardo Di Caprio has been the biggest boost for us Turkish men lately. A social media user was so happy that he expressed his delight by writing, "My dream was to be like Leonardo. He became like me" under this photo.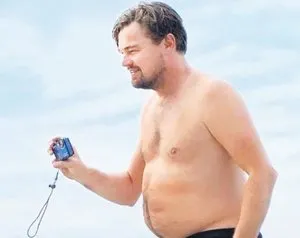 Sir, in order to make all my fellow citizens who act with the motto "He with a balcony is acceptable" a little happier and to cheer them up before the summer, I have compiled the following list as a replacement for the Göbeklilar Manifesto:
■ We don't have to go out to talk on the balcony. We're still on the balcony anyway.
■ We have an additional airbag for collisions.
■ We never sink in water.
■ Cats always sleep on our laps.
■ We naturally maintain social distancing during the pandemic.
■ No one can call us "diameterless". Indeed, our perimeter width is not less than 150 cm.
■ Dozens of clothes hanger families make a living from us.
■ Remember that the tastiest part of lettuce is its core.
And… Breaking consolation is everyone's constitutional right!
Well done Ali Ferahbot
Ali Ferahbot is one of the names I witnessed the first steps as a sports announcer. With his determination and hard work, he finally found acceptance in the industry, but not in a short time.
I was listening to my brother Ali Ferahbot while he was talking about the Trabzonspor-Antalyaspor match on BeIN Sports. In a word, it was awesome. He brought the whole atmosphere of this very special match home with enthusiasm but without exaggeration, almost without making the slightest mistake. He showed us all how the job of an announcer pleases the public when it is done "with the heart".
Ali went through a very difficult time last year due to the serious illness of his beloved wife. Fortunately, God did not deny the family healing. I saw that after this bad experience, my brother Ali embraced his work, his power and his life with more enthusiasm. It is a painful success story. I wanted to share it to set an example for all young speakers…
What did he say?
"I can't hear what comes out of my mouth. Even headphones are insufficient." (Ali Ferahbot, the announcer describing the Trabzonspor-Antalyaspor match on BeIN Sports, describes the deafening cheers in the stadium)
blunder bracket
Presenter Güntekin Onay told the BeIN Super League program, "Galatasaray won the pitch 3-2 against Sivasspor with a score of 3-2." However, the match ended in favor of Sivasspor.
Zap'tiye
Like every holiday, Close Control is on the air as a media sentinel this holiday. Happy and peaceful holidays with the taste of candy to all…