International animal organizations, which have set up border shelters for animals fleeing war in Ukraine, are also trying to bring food to animals in bombed towns.
It has been weeks since Russia attacked Ukraine. The number of Ukrainian citizens fleeing their country has reached 3 million. Citizens and animal rights organizations who had to leave their countries are also trying to save animals in the war zone.
According to the news from the green newspaper; While many countries hosting people from Ukraine, including bordering countries, are relaxing their existing regulations for asylum seekers not to leave their pets behind, they are trying to provide animal care, particularly at the borders of countries with the largest number of refugees, such as Poland and Hungary.
Stating that the effects of bombs and fires are as devastating and dangerous for animals as they are for humans, animal rights organizations point out that not only domestic animals, but also wild animals and ecosystems suffer.
The International Fund for Animal Welfare (IFAW) describes what happened at a shelter there on February 24, when Russia occupied Donetsk on the Ukrainian border: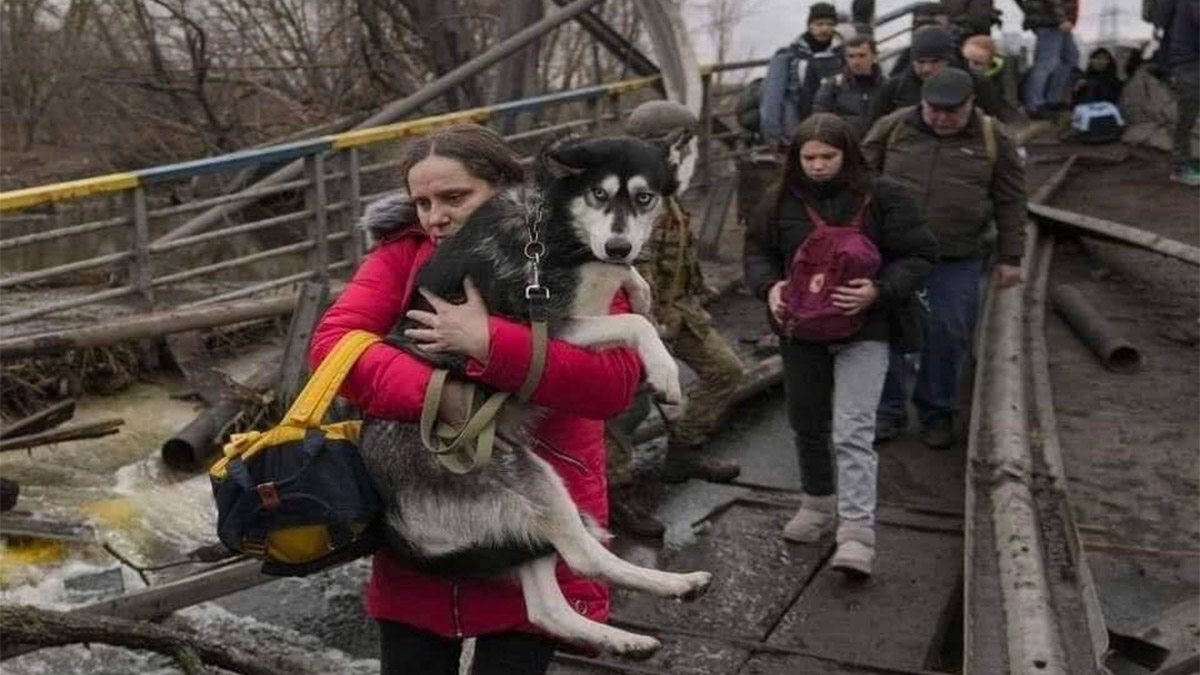 "Staff, volunteers and the 1,100 dogs in their care were in dire conditions. Local animal shelter partners in Donetsk and Gorlovka were to receive emergency care. Starting a fire can draw unnecessary attention to the shelter, so the staff can't cook for the dogs, so they had to buy dry dog ​​food.
THE WAR MADE DIFFICULT TO SUPPLY FOOD AND VETERINARY MATERIALS
In the days that followed, the attacks intensified, spreading to different cities in Ukraine. Animal shelters in cities were damaged as were human settlements, and animals that were meant to stay there lost their lives, staff left and those who didn't were in danger.
Staff at one of IFAW's shelters in Donetsk said, "Our dogs are very scared. Many do not leave their huts, they cannot come out at all. We work without rest, we are very tired, we want peace.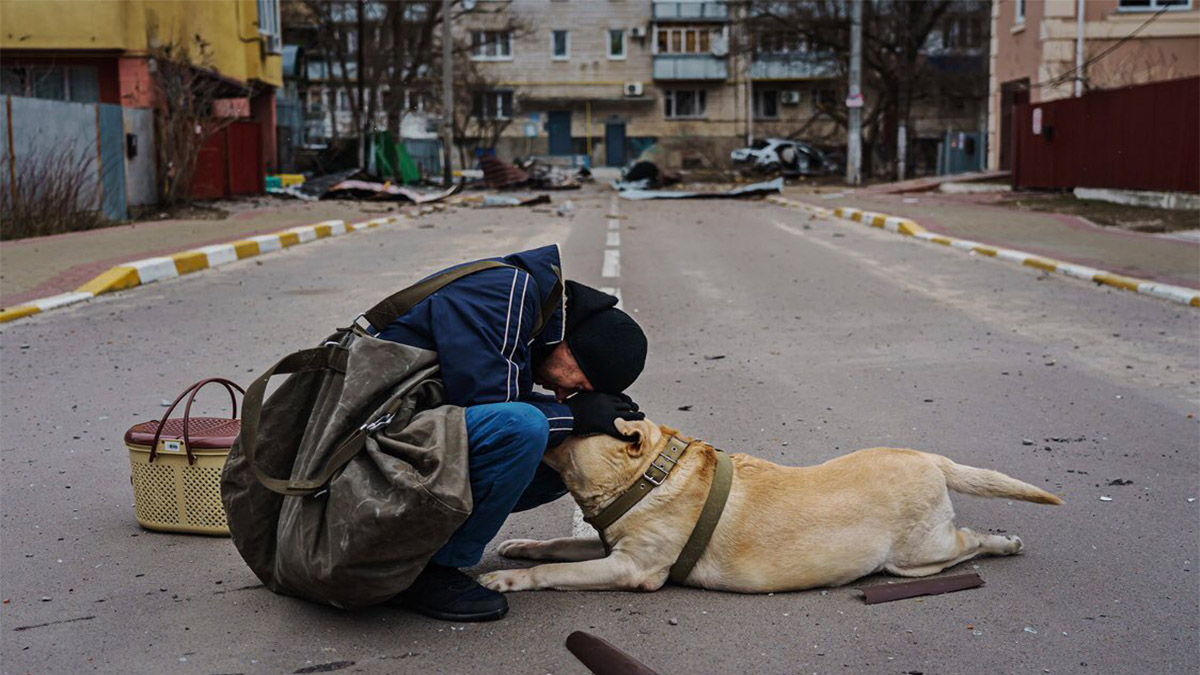 According to World Central Kitchen, on March 3, he walked 60 kilometers without food or water with his cat, Crimsee, slipped into a jacket named Shatabdi, and stood in line for 12 hours before crossing into Poland.
In Bucha, outside Kyiv, on March 5, three people were shot dead on their way home while bringing food to a shelter with starving dogs for three days. In her latest Instagram story, Anastasiia Yalanskaya, 28, who was murdered, sits in the back of a vehicle, smiling at the camera next to bags of dog food.
International animal rights organizations are trying to feed animals in Ukrainian cities such as Kharkov, Lviv, Odessa and Donetsk under bombardment.
Sylvie Kremerskothen Gleason, country director of the United Nations Humane Society International in Germany, shares that in Berlin they work with the Berliner Tiertafel group to distribute pet supplies to visitors from Ukraine, adding that some pet owners who must leave without medication or other Liza, a husky suffering from epilepsy, suffered several seizures during her escape from kyiv with her family, was saved by being treated at the Berlin aid station.
PETA transported 30 cats and dogs rescued from Kharkov on a 1,100 kilometer trip to Berlin on March 15: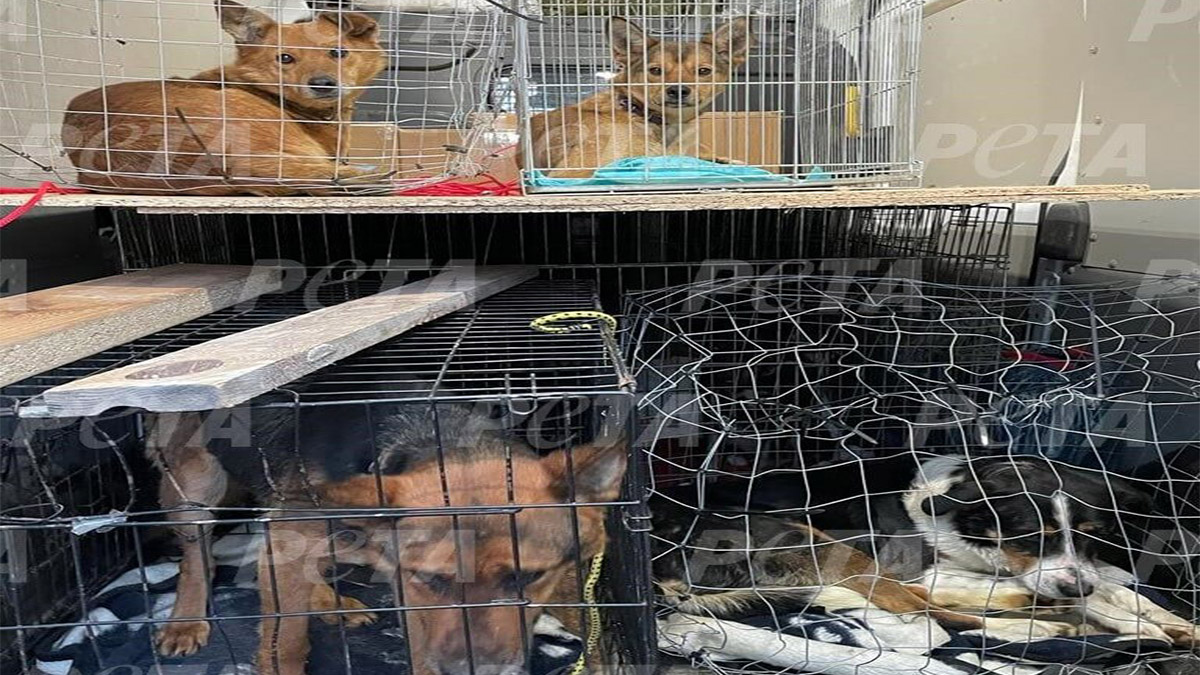 WILD ANIMALS ATTACHED TO WAR
Dozens of animals, including lions, remained from Ukrainians who were injured in the war or had to leave their homeland.
Lions and tigers rescued from the zoo in Ukraine were evacuated on a dangerous journey and taken to Poznan Zoo in Poland on March 4.
To provide a safe place for wild animals evacuated from a shelter in kyiv, the shelter's crew and staff went on a dangerous journey with the animals. Leaving with six lions and six tigers, as well as two wild cats and a wild dog, the convoy came under fire as it left for the Polish border and had to retreat. When they tried to leave the next morning, they were stopped and surrounded by Russian tanks.
Avoiding the area of ​​Zhytomyr bombarded by Russian forces, the convoy slowly and deliberately traveled about 1,000 kilometers (600 miles) to the Polish border, trying to avoid Russian bombs and troops.
"YOU CAN'T IMAGINE THE TRAGEDY OF ANIMALS"
Poznan Zoo director Ewa Zgrabczyńska used the following statements in a post she shared while waiting for the animals to be brought in:
"At the moment I am at the border, waiting for the transfer of lions and tigers. The animals are still alive but I'm crying. The road is full of cars and people escaping, time is running out to help them. You cannot imagine the tragedy of the war here, the tragedy of the animals killed in kyiv. But we will try to organize more transfers and bring them food.
Zgrabczynska said she is in contact with several Western organizations that want to buy the animals. Additionally, a fundraising campaign has been launched for evacuated animals in the city of Poznan, which operates the zoo.
Likewise, staff and volunteers from Save Wild's White Rock Bear Shelter, a bear rehabilitation center in Chubynke, outside Kyiv, stayed there to care for the animals after the shooting caused rage near the city. With a little help, the center was able to purchase food and supplies for the bears in their care, and the bears were evacuated and transferred to the Four Paws Bear Sanctuary in Lviv, Ukraine.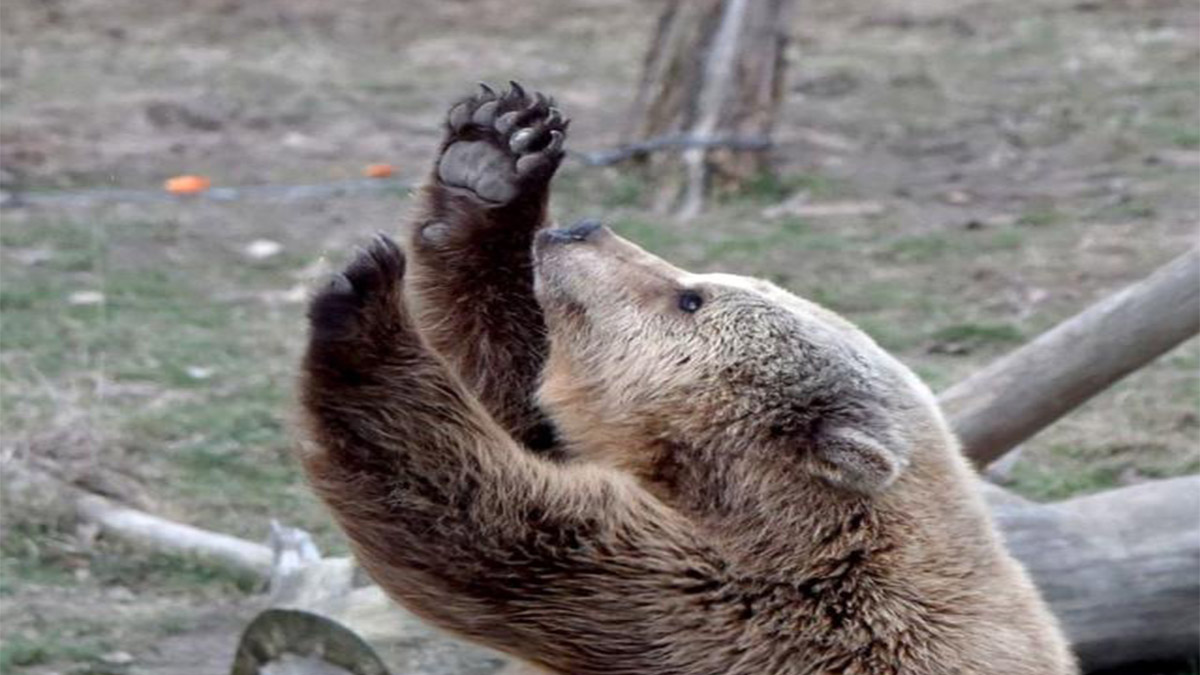 "WE TRY TO EVOLVE ANIMALS SAFELY"
At the border, animal volunteers also help animals at their own risk.
"We are trying to evacuate the animals safely," says Jennifer White, a PETA Germany volunteer who works at the border.
On the other hand, in the current chaos, the chipping and vaccination procedures, which are normally applied to animals upon entry into many countries, are impossible to maintain, the current regulations concerning the introduction of pets can not be followed by refugees in wartime situation, and many animals do not meet the criteria.
Hungary, Poland, Romania and Slovakia eased the bureaucracy for the entry of animals. Many other countries are doing the same to allow Ukrainian refugees to travel with their pets.
In Poland, the country with the most refugees crossing its border, the government has allowed cats and dogs to enter the country without microchips or blood tests.
FINANCES POLAND
Asylum seekers entering through the Polish border must complete a pass for their animals. Those who can provide an address in Poland can take their pets directly to their destination, while those crossing Poland to another EU country are quarantined in a shelter near the border for three weeks. The Polish government finances the housing and care of the animals and provides vaccination against rabies.
In addition to rescuing and distributing stray animals to local shelters, animal shelters on the Polish border and animal organizations on the ground also take care of owned animals that must remain in quarantine.
Also in Hungary, which hosts the most refugees, animals will be able to enter the country without a microchip, proof of rabies vaccine or titration test, provided that the passage documents from the National Food Chain Safety Office (NÉBIH ) are fulfilled.
ANSVSA, the main veterinary institution in Bucharest, Romania, has introduced an exception that allows Ukrainian animals to enter Romania with human guardians, even if they do not have documents. Those entering Romania with animals are required to go to the "sanitary veterinary point" at the borders. A maximum of five animals (dogs and cats) are allowed per person.
In Slovakia, the state veterinary office also allows entry of pets accompanying Ukrainian refugees, even if they do not meet the usual conditions.
Following the European Commission's recommendation of member states to ease bureaucracy for Ukrainian citizens coming to the EU with pets, countries have suspended the permit requirement until further notice under Regulation 576 /2013 (EU).
Instead, those entering these countries with pets will be able to undertake the necessary procedures (such as quarantine, antibody titer testing, rabies vaccination, microchipping, obtaining a pet passport) to determine the health status of their pets by contacting local veterinary authorities.