In the words of veterinarian Orhan Özbaba, the baby crow, whose legs were amputated in Mersin, was placed in the garden of the veterinary hospital and asked for help.
An event similar to the case of a pregnant cat going to the family health center, which was in labor in Karaman, occurred in Mersin.
A baby crow, who had both legs cut off and was previously tortured, was placed in the garden of a private veterinary hospital in Yenişehir district of Mersin yesterday morning.
The baby crow, whose condition was confirmed by hospital veterinarians, was immediately placed in protection for treatment.
The fact that the baby crow came into the garden of the animal hospital, almost smelling it, touched vets and hospital staff who saw the situation.
FEEL LIKE IT CAME HERE
Veterinarian Orhan Özbaba, director of the veterinary hospital, said they had a really interesting event yesterday morning. Özbaba said: "After doing patient consultations in the morning, we went to have coffee in the garden.
Once we saw, a crow came flying. It was abnormal, because this animal bounces, falls, gets up. When we followed him from a distance, we saw that both of his legs had been cut off at the ankle. We were surprised to see him. We felt like we felt it and came here. After that he couldn't escape anyway, we kept him, we took care of him," he said.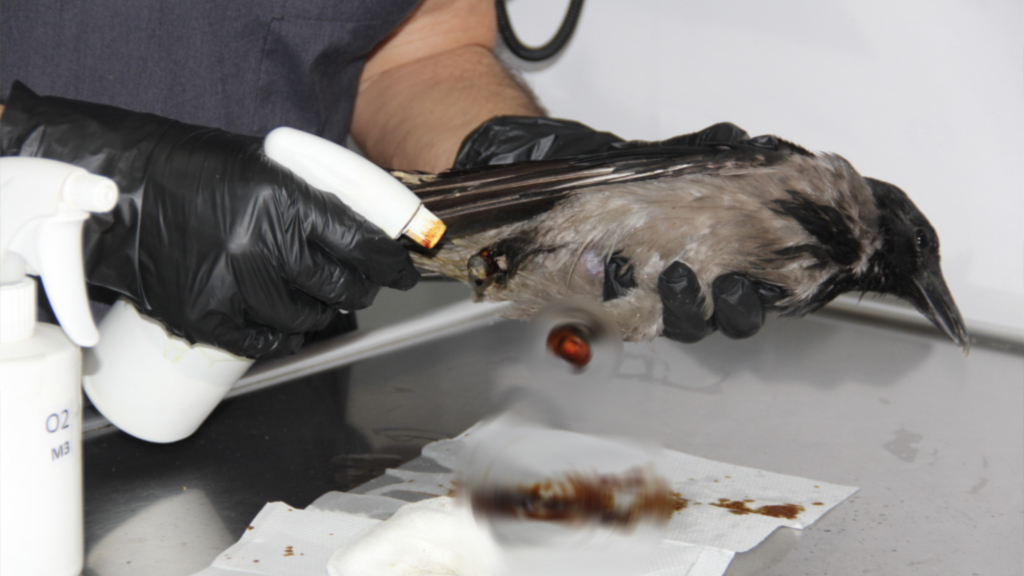 Tortured by BAD PEOPLE
Stressing that the crow is a "baby" not yet a year old, Özbaba said he first thought the animal's feet were like this from birth, but when he checked it , he realized that was not the case.
Orhan Özbaba said: "I'm sorry, but this child was probably tortured by evil people. He's in better shape now. I hope someone will take care of this news after he gets his legs back because this kid can't fly, he can't land on branches, he has to live on flat ground. If anyone is interested, we will prepare a suitable environment or send it to Tarsus Zoo.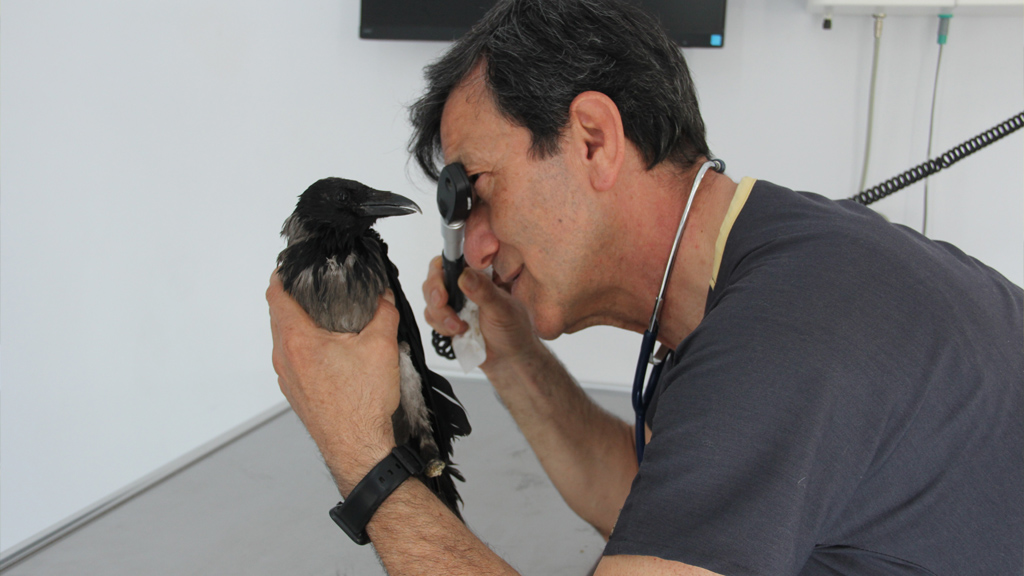 Stating that the crow's long-term condition is evident from the hair loss on its abdomen, vet Özbaba said: "So because the animal couldn't walk on its feet, that place was rubbed on the ground, but luckily the body was resilient. A very tall person survived that way without getting an infection," he said.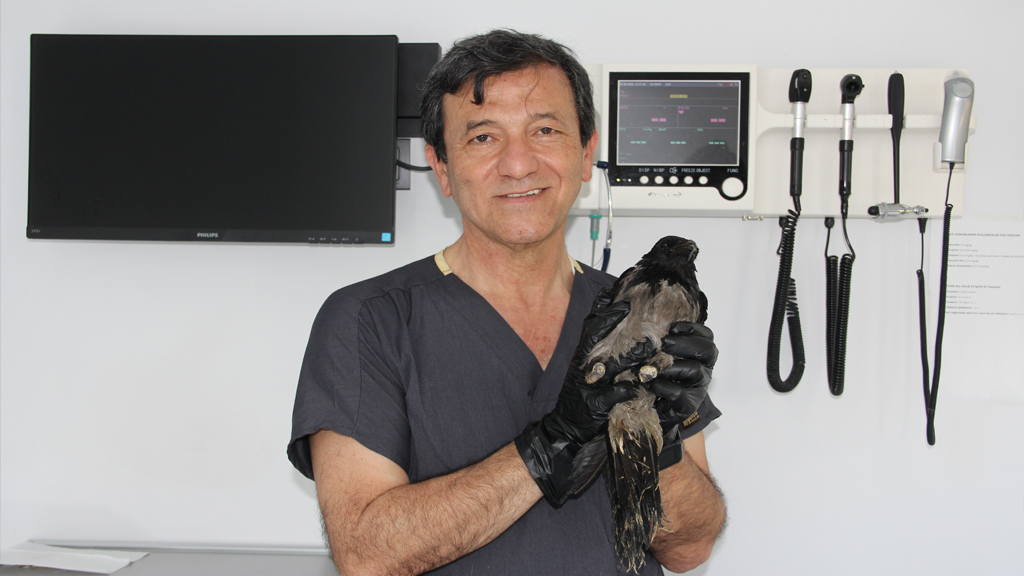 HIS BEAK IS VERY DEVELOPED, SO SURVIVING
Stating that the baby crow cannot cling to branches and struggles to find food because it has no legs, Özbaba said: "Therefore, its other limbs must be well developed. In this case also the beak. Its beak is very strong, highly developed. Aren't people like that too? As the eye and ear disappear, other organs develop.
This child, whose other senses will develop better, will cling to life. Of course, since he cannot tear it with his hands, he will use his beak very well, but since he cannot fly, this child must be fed and cared for on the ground, in the terrestrial environment, or he must be in a grassy area where worms and things to feed can easily reach.
I HOPE WE CAN FORGET HER PAIN
Providing information on the treatment they will apply to the crow, Özbaba said: "We will clean the wound in this area a bit later with oxygen so that it can heal better. Then we will treat it with softening ointments.
No infection is visible. If we see an infection, we apply antibiotics and vitamins. After a few days of maintenance and recovery, we'll give it to him if he's lucky in the meantime. Right now, of course, he is scared and shy, he gets nervous with every approach. This kid is definitely going through something. I hope we will offer him a good environment during these 3-4 days, that we will make him forget these pains", he declared.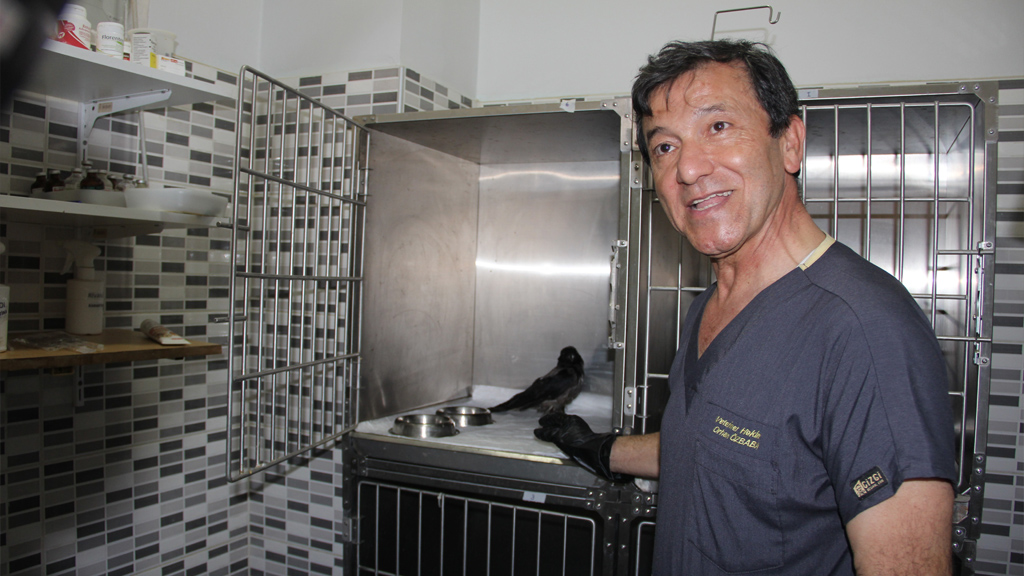 THEY DEFINITELY FEEL
Özbaba said the arrival of a tortured disabled crow in the garden of the animal hospital gives different feelings and said, "I think they feel it. This situation attracts my attention in our hospital and other clinics. We have cats and dogs who come at night and ask us to open the door, stay here at night and leave in the morning and walk around until evening. They know they are being watched.
I have seen many injured dogs on the street, when I approach the child who is waiting, he knows and feels that I have come to help him. They also have a different gut feeling, of course, and it's very difficult to go deep, but they really feel it."