class="cf">
Prepared under the direction of Elizabeth Filippouli, President of the Global Thinkers Forum (GTF), formed by international opinion leaders,Women in the world – Letters for a new century (Women in the world – Letters for the new century)" with his inspiring story from Turkey, founding president of the Association of Guide Dogs, lawyer Nurdeniz Tunçer. In the book, which tells the extraordinary stories of visionary women from around the world, inspiring women from more than 20 countries are represented.
Lawyer Nurdeniz Tunçer, founding president of the Association of Guide Dogs, graduated from the Faculty of Law of Istanbul University in 2001. Tunçer, who has professional experience in corporate law and international legal advice ; Considering the difficulties caused by the problem of visual impairment which he has been experiencing since he was 10 years old, he has devoted his time and energy to the rights of disabled people in Turkey at an increasing pace. In 2014, he founded the Association of Guide Dogs. Tunçer still works as the president of the association in order to raise the legal status and standard of living of the visually impaired and provide them with education and employment opportunities.
class="cf">
Inspired by the book "Letters from women to the world – for the new century",Well, You are: a pebble (You and I are pebbles)" project implemented. "Pebble" means a small pebble that has been smoothed and rounded by the movement of water or sand. Pebbles of different colors, textures and patterns; They have quartz or other mineral stripes, spots and geometric patterns. In this project, the pebble was used as a metaphor for a woman's resilience. Launched in the UK, the "I am, You Are: A Pebble" project creates a space to rethink the importance of diversity, entrepreneurship, philanthropy and leaving a good legacy through the stories of women from more than 20 countries.
International photographer Sebastian Böttcher; He photographed visionary women selected in the book "Letters from women to the world – for the new century" in their own country. The artist, who came to Istanbul in recent months as part of this project, also took photographs of Nurdeniz Tunçer. A selected frame from these photographs, based on historic locations, has begun to be exhibited at The Conduit in London. All work related to the said Project will be completed in 2023. (Exhibited photograph by lawyer Nurdeniz Tuncer)
class="cf">
Photographer Sebastian, regarding his experiences taking photos of successful women in different countries for this exhibition project; "Meeting women from different cultures definitely increased my awareness of gender injustices, such as unequal opportunities." said. Sebastian sums up his feelings when photographing Tunçer in Istanbul: "My portrait photography is not limited to capturing a single gaze. I want to tell the whole story with a photo. I determine stories based on their natural development around body language and postures. I must admit that I had some worries before filming Nurdeniz Tunçer, and I was not sure how to guide a visually impaired person without using visual language. But thanks to my model's frankness and enthusiasm, I quickly relaxed and really enjoyed the shoot.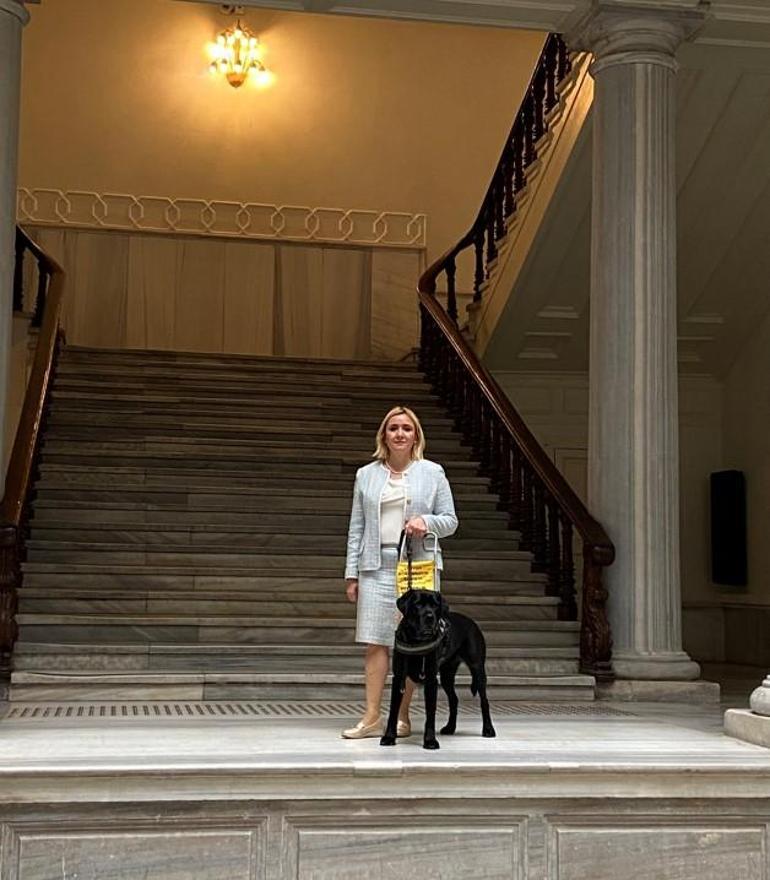 (A photograph donated by Attorney General Nurdeniz Tuncer to our Gazette)
class="cf">
Lawyer Nurdeniz Tunçer, meanwhile, says she is honored to be included in this significant international project. Tunçer says that while her intense work for lasting awareness continues, being one of the women whose photos are featured in the open exhibition at The-Conduit Club in London is a very inspiring situation and says: "This work will inspire others for the power of women and what they can do. I hope this is the source. said.
Lawyer Nurdeniz Tunçer, who has received numerous awards for her outreach activities, continues to inspire various projects abroad as well as in Turkey, with Turkey's first guide dog, Kara.
class="cf">
I had the pleasure of personally meeting Nurdeniz Tunçer in 2016. I wrote my first guide dog article on July 29, 2016. Dear Nurdeniz, she is still among my dearest friends to this day.
This young woman, whose heart is as beautiful as her face, spends all her strength to "remove obstacles" in the face of the visually impaired. I congratulate him once again in front of you all for this effort and wish him a good continuation in this difficult path that he has taken…
With the wish for an unhindered life that will not make us feel our obstacles…