WALL – World renowned illustrator Selçuk Demirel's new work, "Suddenly Istanbul", published by Yapı Kredi Publications, is a new platform where literature and the line meet. Demirel mixes his feelings about the city with passages from literary works in the book. What emerges is a tale from Istanbul, in which the line is surrounded by a separate line, and the writing is surrounded by a separate branch.
You create a new language of expression by combining your lines with Istanbul quotes from famous names in literature. Your book is 'Suddenly in Istanbul'. I would like to talk about this language.
Can we call this a new history of Istanbul that brings together literature and your drawings? Or would you suggest weighing line and text placement separately?
Poetry and literature have always been very important to me. I can say that it is one of the most important sources that fuel my work. When I decided to turn my models of Istanbul and my years of experience into a book, I wrote poetry, letters, etc., written about Istanbul, with these models. I thought that the written texts should also accompany it. "Can a book emerge from this union? I went. A long time has passed with text scanning. Poems, novels, etc. written about Istanbul during my summer months 2020. went through reading. I don't know if I created a new language, but I think the result of the combination of images and writings in the book 'Suddenly Istanbul' is pleasant.
You know, Walter Benjamin's writing technique developed a unique writing technique by transforming the notes he took from his long and deep readings into original texts. He had composed his articles and his books with the thousands of notes he had taken. What I am looking for is to create harmony between the images and the texts that I have chosen.
I would also like to talk about your relationship to literature… Is literature one of the sources from which you nourish your drawings?
Yes, as I said above, literature, poetry, political texts, thought pieces and articles are important sources for my work. I like to paint my own thoughts as a thinker rather than an illustrator, and I try to do that. I like to travel and discover other cultures. I try to live by realizing every moment that I am alive. I would like this to be reflected in my work as well.
You have worked before, where literature and line met. Like 'Because of the Authors', 'An Orange Blue World'… We know from your exhibitions that you like variations. Are your works also a kind of variation?
"A blue orange world", "Because of the authors", etc. I have met writers and poets in books. In my book 'Alone on the Shore', on the other hand, I preferred to directly write the texts of the nearly 60 images that I had drawn before. The result also surprised me. I have never used text in my drawings and images, but I like to accompany my images with text. I am not in favor of my paintings being explained in writing, or viewed as if they were a puzzle.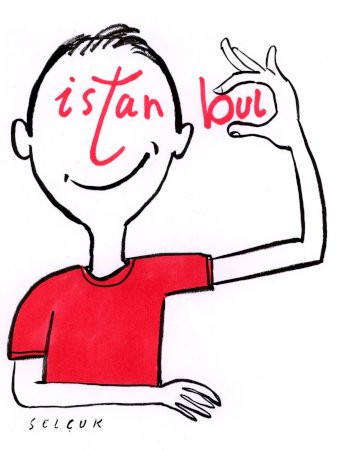 Is it a project that suddenly developed like the name "Suddenly Istanbul" for you, or is it a long-term project with a planned preparatory phase? What kind of work process did you have? How did the idea for the book come about, how did it develop and come to fruition?
"Suddenly Istanbul" did not appear out of nowhere. As you said, he had the idea to collect images of Istanbul accumulated for a long time in a book.
So who do you think is Istanbul's most striking and profound writer or poet? Or, in parallel, the name that marked you the most?
It is a bit difficult to say which author best describes Istanbul. While I thought of Sait Faik, Orhan Veli and Ahmet Hamdi Tanpınar when I said Istanbul, now I can easily say Orhan Pamuk. His book 'Istanbul' and many of his other novels (except 'Snow') are set in this city and come to life. In the book 'Istanbul', Istanbul is like a hero in a novel.
We see in the book that when it comes to Istanbul, your color range expands and becomes richer. What relationship have you established between colors and Istanbul?
Yes, color and light are very important. Each image in this book is independent. There is no continuity between the images. Therefore, each painting is shaped in its own color and shape in relation to the subject to be told. If the photo is in the evening and the sun sets behind Hagia Sophia, the reds, yellows, oranges, browns gain weight, etc.
"I DO THE MOST PRIVILEGED JOB IN THE WORLD"
How do your ranges evolve from the idea to their presentation?
I do the most privileged job in the world. I draw and paint what I want on my notebooks and on the papers in front of me. I'm not afraid to make someone like it. I try to free up my working conditions as much as possible. I consider myself doing more creative and diverse work than ever before in the past 5-6 years. Exhibitions, books and many book projects on my desk that I plan to publish soon are waiting to be published. I am thinking of a few exhibition projects.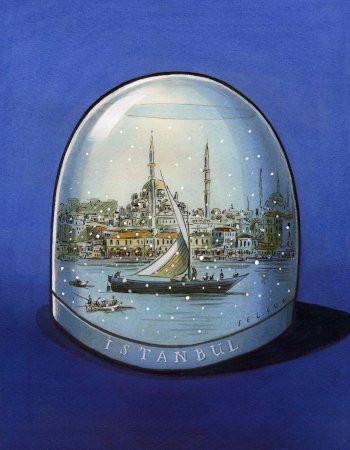 What do you keep in your drawer for work?
'Ağaçname/What a Beautiful Tree You Are': I wrote short haiku texts for this book. 'Different Cats': I collected my new cat drawings in a book. Excerpt from the "Paper" that I published previously
Like the second volume of 'Cats'.
"Siamese Shadows": Françoise David. He wrote texts for my 40 bosses. This book will be published in France next September.
'In Paris Coffees' (Under Pressure), 'Cinemascope' etc. my other book projects.
The Museum of Immigration History has added 23 of my drawings to the museum's collection. For each of these 23 drawings, writers, sociologists, historians and lawyers from different professions have commissioned articles on my drawings. It will be published as a portfolio of approximately 50 pages in the journal Hommes & Migration, which is currently a museum publication.
One last word; I love coming to Istanbul and coming back from Istanbul. As Sait Faik said, "I had tears in my eyes. That's when I realized that the Istanbul of our dreams is more beautiful than the real one.