Animals, including lions, remained from Ukrainians who were injured in the war or had to leave their homeland.
As the town of Hostomel, near kyiv, came under heavy shelling from Russian forces on March 2, Asya Serpinska saw her neighbor's barn burn.
Serpinska knew that there were captive animals there and she had seen her neighbor being taken away by ambulance. So he rushed to the barn with someone to put out the fire.
"We were able to open the cages and release a few birds, rabbits and small foxes," Serpinska says.
There was also a lioness named Rura, who they knew lived there. After searching, they found the two-year-old animal in the basement.
"She didn't have anyone to feed her, she looked quite agitated and uncomfortable. We started giving her food and water," says Serpinska, 78, who runs the one of the largest dog shelters in Ukraine.
Serpinska says their plan is to wait for the bombardment to stop, since Rura is alone, and then visit Rura.
"THEY SUBJECT FEAR, HUNGER AND COLD"
A cargo airport at Hostomel was one of the first targets the invading Russian forces attempted to seize on February 24. By March 5, Russian forces had captured the area around the Serpinska dog shelter.
Serpinska was unable to leave the house for the next nine days. On Monday, March 14, he left to bring food and water to Rura, but encountered Russian soldiers on the way. The soldiers said they had given the lion water the day before, but now that the area was mined, even they couldn't enter.
Animal rights activists say Rura is not an isolated case. It is estimated that there are thousands of animals captured from homes in Ukraine, including lions, tigers, bears, wolves, crocodiles and pythons.
In the Saltivka district of Kharkiv in the northeast of the country, activists were trying to rescue two lions, a jaguar and a tiger that were being held in a house even before the Russian invasion.
"After the war started, their owners abandoned these wild animals and left the city. Their fate is currently unknown," says Irina Korobko, an activist with the Ukrainian Association of Animal Rights Defenders.
As the area is under Russian bombardment, no one can monitor the condition of the animals.
"It's a huge problem that we don't know what will happen to the thousands of wild animals in captivity because of this war," Korobko says.
Maria Trunova, president of the Ukrainian Association of Animal Rights Defenders, says animals are often kept in appalling conditions.
"We were constantly trying to get the authorities to do something about it. And now these animals are suffering even more fear, hunger and cold from the shelling. And they can die."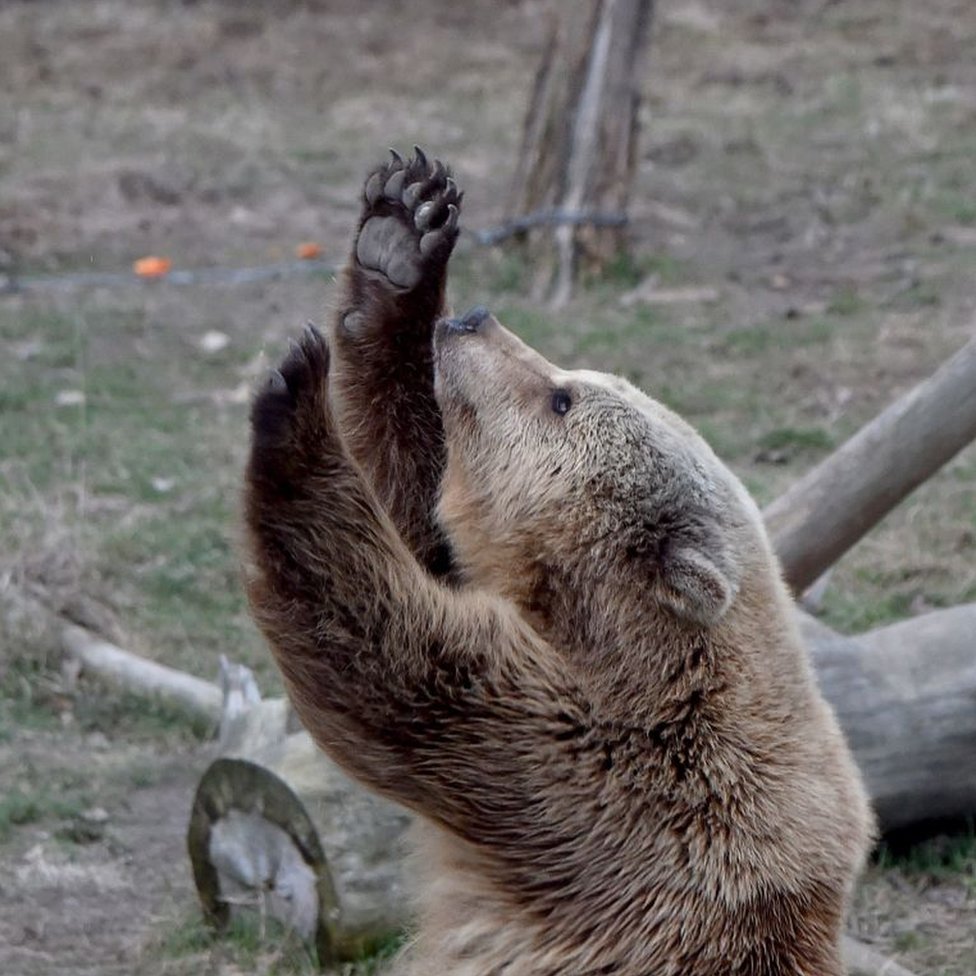 DON'T KNOW WHAT WILL HAPPEN TO THE WIFE
Activists say animals such as lions and tigers can be purchased in Ukraine for around $1,500, and this is legal as long as the animals are not prevented from being bred in captivity.
After a long campaign by animal rights activists, the Ukrainian government last year banned the use of captive animals in restaurants to entertain customers. Also, beggars and photographers were banned from photographing tourists with bears in Kyiv and other cities.
According to Four Paws, an international animal welfare organization that rescued 25 bears in Ukraine, around 100 bears still live in captivity in small cages near restaurants and in private zoos across the country.
Animal welfare campaigners say some wild animals have been rescued and evacuated to neighboring countries since the invasion began, but mostly from zoos and shelters, not private homes.
The Convention on International Trade in Endangered Species of Wild Fauna and Flora (CITES) says animal welfare groups are working to help save animals from Ukraine.
Convention spokeswoman Sofie Flensborg said: "Under normal circumstances, CITES regulates the international trade and transfer of these wild animals. In these exceptional cases, the CITES Secretariat recommends that the CITES regulations, which must be documented by Ukraine, be suspended due to the war to allow the animals to be transported to safety," he says.
Asya Serpinska says Natalia Popova, owner of a wildlife sanctuary, is ready to take lioness Rura from Hostomel. However, he said Russian soldiers would not allow him to cross the front line.
Good news for the 1,000 dogs and 200 cats that Serpinska takes care of. A generator used to power the pump that supplied their food and water from a well ran out of water after being bombed.
Serpinska said she was considering releasing the dogs "so they don't die before her eyes".
But Russian soldiers have authorized the delivery of materials to restore the supply of dog food and water.